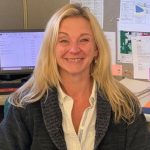 Morgan Haley
Building/Zoning Assistant
Michael Huffman
Electrical Inspector
Office Phone
(269) 948-2194, ext. 19
Office Hours | Permit Application Drop Off & Pickup
Monday – Wednesday | 10:00am – 2:00pm
Online Building Permit Information
View Rutland Charter Township building permit information via the link below:
Building, Zoning & Electrical Application pickup and drop off will be at the Township Building/Zoning Department, Monday – Wednesday 10:00am – 2:00pm.
BUILDING INSPECTION REQUEST, please call Associated Government Services (A.G.S.)  269-629-0600  Ext. 1
When requesting an inspection, please leave the jurisdiction "Rutland Township", your permit number, the type of inspection requested (for example footings, foundation, rough-in, etc.).  How the inspector will gain access (locked or unlocked), your name, site address, and a phone number so they can reach you if necessary.
Please be aware, a building permit cannot be issued until all other approvals have been received.  Example of other approvals are:  zoning, driveway, health department, soil erosion and DEQ for wetlands if applicable.
A Certificate of Occupancy cannot be issued until all the zoning requirements/conditions have been met and approved by the Zoning Administrator.
For general questions about building requirements, please call 269-629-0600 or 800-627-2801.
Before building, the following permits may be required:
Zoning Compliance Permits from the Zoning Administrator. 
Building and Electrical Permits from the Township Office.
Plumbing and Mechanical Permits from Professional Code Inspections (PCI) 110 W. Center St., Suite A, Hastings, MI 49058.  Office: 269-948-4088  pcimi.com
Soil & Erosion Permits from Barry County Planning/Zoning (required for a planned earth change which disturbs 2 or more acres or any excavation within 500 feet of a lake, stream or designated wetland).  Office: 269-945-1290 barrycounty.org
Well and Septic Permits from the Barry-Eaton Health Department (required for issuance of a dwelling permit) 330 W. Woodlawn Ave., Hastings, MI 49058.  Office:  269-945-9516  barryeatonhealth.com
You need a Zoning Compliance and/or Building Permit for all sheds, storage buildings, fencing, structural remodeling, decks, additions, etc., and swimming pools over 24″ also needs a Zoning Compliance Permit.