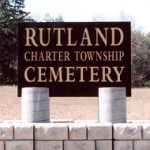 Phone
(269) 948-8668
Location
4600 Upton Road
Cemetery Hours
The Cemetery is open to the public from Dawn to Dusk
Please remember to pick up any flowers or other memorials from the cemetery before October 1st of each year as our Sexton and his crew do a cemetery clean up in October before the cemetery closes. The cemetery reopens in April.
The Cemetery is not maintained through the winter months when we have snow unless there is a burial scheduled. Please do not try to drive on the cemetery roads in the deep snow and get stuck.
Thank you for your consideration on this. Please be mindful of our Cemetery Ordinance when memorializing the grave sites at the cemetery.
For a complete look at our Cemetery Ordinance, please find the ordinance in the Documents section below.
Cemetery Lot Fee Schedule
Resident
$50.00 per lot for the first two (2) lots

$100.00 per lot for all lots over two (2)

$50.00 per lot for all deceased dependent children
Non- Resident
There is a maximum of six (6) burial spaces per household allowed. Purchases of spaces in excess of six (6) per household shall be reviewed upon a petition of the purchaser to the Township Board at a regularly scheduled Township Board Meeting.
All unused cemetery spaces must be returned to the Township. No private sale of cemetery lots is allowed.
All cemetery lots can be purchased at the Rutland Charter Township Hall in the Clerk's office. Office hours are Monday- Thursday from 9:00am to 3:00pm.
For more detailed information there are pamphlets in the office or see the Cemetery Ordinance in the Documents section below.